This fundraiser is over and thanks to the generosity of people like you, we raised over 20,000 dollars for Worldreader! Those funds will will help five libraries in Western Kenya provide e-readers and e-books for thousands of children.
Congrats to Jennifer Close from Denver, Colorado who won the Weekend at the Library Hotel. Jennifer says:
"I have wanted to visit NYC for 15 years but it never worked out. I can't wait to plan a trip. I am a librarian so staying at The Library Hotel is on my list of things to do. I am glad that Passports with Purpose is able to provide so many books through World Reader."
We talk a lot about volunteering and giving back here on GypsyNester.com.
We feel that, as empty nesters, many of us have the time now to get out and do good in our communities and in the world.
It's a great feeling.
We were invited this year to take part in a really special fundraiser, and we hope that you'll be a part of it.
Passports with Purpose is an annual travel bloggers' fundraiser that has raised funds to build schools, libraries and in 2010, an entire village (you read that right!).
Could we turn down a chance to help on that grand of a scale?
NO way!
So what's been hatched up for this year?
PWP's 2015 beneficiary is Worldreader. Every cent that we raise this year will bring digital reading to five libraries in western Kenya.
The e-readers will provide an estimated 6,250 children, teachers and parents with access to more than 50,000 books.
HOW IT WORKS – Helping $10 at a Time
Bloggers either purchase or procure a prize from a sponsor and PWP auctions off the prizes online. Every $10 earns you a chance to win something fabulous from a resort vacation to a camera to a stylish new suitcase. FAQs here.
YOU are able be able to donate toward your choice of any of the participating bloggers' prizes – and help bring books to schoolchildren in Kenya!
A win-win!
Our Prize – A Fabulous Weekend at the Library Hotel in NYC valued at $1200!
When we found out that WorldReader was this year's beneficiary, we knew exactly who to contact. We figured that the Library Hotel's commitment to reading and love of literature would make them perfect to partner with for this endeavor.
We absolutely fell in love with the Library Hotel when we stayed there as writers in residence (see all about our stay here!) – and we were so happy when they said YES!
The rooms aren't the only place designed to inspire reading and writing, the second floor Reading Room serves as a quiet getaway, or the place to be for breakfast and each evening's wine and cheese reception.
Enjoy a weekend in New York City's book lover's paradise: Library Hotel! Your stay includes two night's deluxe accommodations for up to two adults and includes Library Hotel Collection's signature amenities: a bountiful continental breakfast buffet each morning, an evening wine and cheese reception, 24-hour refreshments including coffees, tea, water, juices, cookies, and fruits, wireless high speed Internet access, evening turndown service with bottled water and Belgian chocolates, daily membership passes to New York Sports Clubs throughout Manhattan, and of course access to a selection of DVDs, daily newspapers, and over 6,000 books.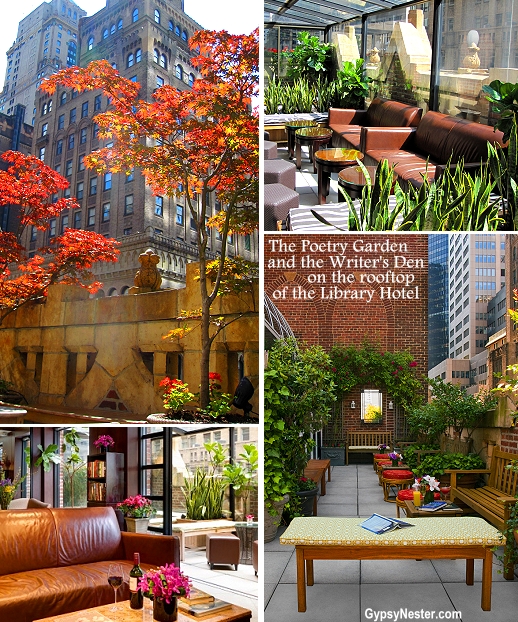 The Library Hotel is situated in midtown Manhattan, right in the thick of things.
It's completely up to you if you want to take in all that New York City has to offer, or simply hole up in luxury and hang the Shhh… Please let me read sign on your door!
David & Veronica, GypsyNester.com
Delve Deeper:
Visit Passports with Purpose Website
Visit the Library Hotel website
See all about our visit to the Library Hotel
Find out Things You Don't Know About in NYC – even if you live there!
See all of our adventures in New York City!
YOUR turn: Is this the coolest hotel, or what? Will you donate $10 to help others?