A big thanks to Ontario Travel and Ottawa Tourism for providing this rollicking adventure! As always, all opinions are our own.
In all of our previous visits to Canada, which number in the dozens, we had never been to her political heart.
Her capital city, Ottawa, proved to be eye opening in many ways to a couple of visiting neighbors from south of the border.
Going Underground — Cold War–Style
On our way into town we stopped for a trip back in time at the Diefenbunker, Canada's Cold War Museum.
This underground bunker was constructed to be the shelter where senior members of the government and military could ride out a nuclear attack.
Luckily it was never put to the test.
As warheads got more powerful the installation was deemed obsolete and decommissioned.
Then someone had the big idea to preserve it exactly as it was and allow the curious public to see what life would have been like if it had become necessary to hunker in the bunker to hide out from global destruction.
The Iron Curtain-era technology seemed almost comical and, making it even more anachronistic, nearly every desk had an ashtray on it.
Nothing like having five hundred frightened and frantic people packed into a sealed cellar seventy-five feet below the surface chain smoking.
The Changing of the Guard is a Seriously Big Change Here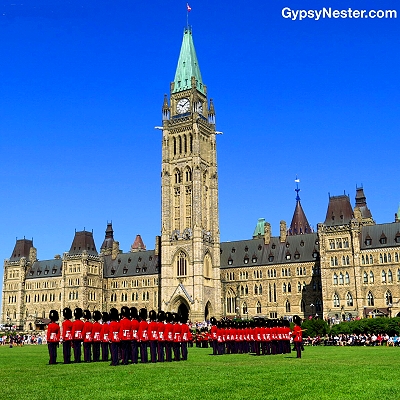 After seeing this, it seemed only natural to check out where all of the hunkered down dignitaries would have come from, so we made our way to Parliament Hill, home to Canada's federal government.
All summer long, morning, noon and night, there are thrills to be found on Parliament Hill, none of them involving blueberries.
As we waited on the enormous lawn in front of the Parliament House with the soldiers of the outgoing guard standing at attention, we began to hear the sound of approaching drums.
Soon we saw troops, led by their regimental band and pipers, marching up Elgin Street.
The entire force was decked out in their royal finest for the Changing of the Guard Ceremony.
The Ceremonial Guard, even on this hot August day, wore heavy scarlet wool tunics and black bear fur hats.
Now that is dedication.
Drawn from the Governor General's Foot Guards and the Canadian Grenadier Guards, to a man, or woman, no doubt they consider the honor more than worth it.
Also, it almost never gets this hot up here, so this was a rare hardship.
Wait… There's a Queen of Canada?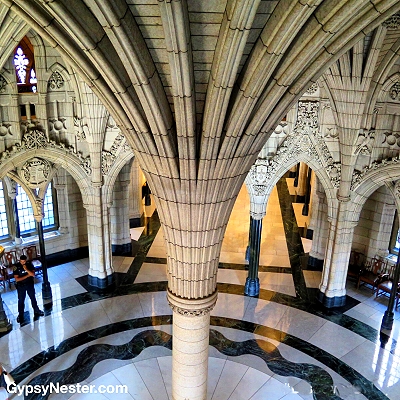 With the sentries safely switched, we took the opportunity to get out of the heat and duck inside the Parliament House for a look around.
The classic Gothic structure was built beginning in 1859 and completed in 1927 and looks as though it would be right at home on the banks of the Thames in London.
While walking through building we got a condensed view of Canada's political system.
We began in an ornate hall with portraits adorning the walls of every king or queen who has ruled the country.
Yes, Canada is a monarchy.
They recognize the royalty of England as the monarch of Canada and the official head of state.
The crown is represented by the Governor General, but the Prime Minister is responsible for almost all of the actual executive responsibilities.
With Parliament out of session we could look in at the House of Commons, where the bulk of the governing, and arguing, takes place.
The members are elected from across the country with the majority party picking the Prime Minister. They sit on opposite sides of the room and, depending on the issue, let each other have it across the floor.
In the other legislative chamber, the Senate, we learned just how different Canada's federal government structure is from ours.
First, the senators are not elected, they are appointed by the Governor General, and second, their duty is to carefully, and hopefully calmly, examine legislation rather than engage in the partisan infighting involved in creating the laws.
Watch: Get a load of the Most Beautiful Room in Canada!
This is why they are referred to as the chamber of sober second thought.

We couldn't possibly leave Parliament House without seeing the library, widely known as the Most Beautiful Room in Canada.

This was the only part of the original structure to survive a disastrous fire in 1916, adding to its legend and renown.
And the view from the top is gorgeous!
Once the sun goes down, the front of the building becomes a giant screen showing a spectacular light and sound presentation to the crowds of thousands that have gathered every evening since 1984.
In honor of the country's 150th Anniversary of Confederation in 2017, the show, Northern Lights, celebrated Canada's physical, historical, and cultural landscapes.
Just off of Parliament Hill, a watering hole named for one of Canada's founding fathers awaited us, D'Arcy McGee's. McGee helped create the Canadian Confederation in 1867, but was assassinated in 1868.
His namesake restaurant lives on though, serving the politicos and regular citizens of the Canadian capital with an attitude much lighter than the story of his demise.
Don't know how the murdered lawmaker felt about a pot pie and a pint, but the pairing certainly worked for us.

In order to prepare for our next day in Ottawa, a post political adventure, we needed a place to lay our heads. The Albert at Bay Suite Hotel was more than deserving of our vote.
Our enormous room was more like an apartment than hotel, complete with full kitchen, dining area, and a living room that we could have called a committee meeting in.
Rock us on the Water

Getting away from the government, we had a chance to explore two of Ottawa's waterways.
Our first stop took us on an utterly unexpected journey, river rafting in the heart of a city of over one million people.
While the whitewater may not have been as wild as a raging mountain torrent, the skyline views more than made up for it.
We also passed a cool and quirky Ottawa River tradition, a collection of Balanced Stone Sculptures.
Every spring for the last thirty years local artist John Ceprano has stacked river rocks in the shallows near Remic Rapids.
When winter arrives the ice and snow take their toll, clearing the canvas for him to start all over again.
For a more relaxing ride we hopped aboard a Rideau Canal Cruise.
The canal is North America's oldest continuously operating waterway and a UNESCO World Heritage Site.
It was built after the War of 1812 in fear of another attack from the south.
The thinking was that an alternative route to Lake Ontario from the capital city was needed in case another war broke out.
That's right, they were seriously concerned about America attacking, but then, they weren't Canada yet, so perhaps they had good reason. Luckily tensions subsided and the waterway served only peaceful purposes, perhaps the most serene of those being each winter when it becomes the world's largest naturally frozen ice rink.
We're Flying Aces! Soaring above Ottawa in a Biplane

Having seen the city from land and water, we obviously had to take to the air.
The Canada Aviation & Space Museum just happened to have the coolest way we could accomplish that possible, a flight in an open-cockpit 1939Waco UPF-7 biplane.
After donning our goggles and leather helmets, we took off for a bird's-eye view of Ottawa and couldn't stop grinning the entire time.
This was unlike any flight we have ever experienced in so many ways, not the least of which was having to check our teeth for bugs once we landed.
Beam me up, Scottie!

From this ride back in time, we beamed ourselves across the parking lot and up to The Starfleet Academy.
Neither of us are Trekkies, but even the most casual fan couldn't help but have a phasors-on-stun blast at this kitschy academy.
The hands-on exhibits allowed us to boldly go where no man has gone before, well… at least not that many men have.
Watch: Veronica gets Beamed Up!
Afterwards, we got a certificate and sent on our way to hopefully live long and prosper.
Mandatory Ottawa Eating…

We could hardly do either without some nourishment, and we found several sumptuous options in the Canadian capital.
No trip to Ottawa is complete without eating a BeaverTail.
No, not the hind end of a furry dam builder, an amazing sweet treat of fried dough covered with any number of mouthwatering toppings.
Since we were at the original stand at the Byward Market, we opted for a classic Cinnamon & Sugar and another with maple frosting.
Speaking of the market, this area has been a focal point of the city for nearly two hundred years.
Several fires have taken a toll, but merchants remained undaunted. One of them, Le Moulin de Provence, caught our eyes with an unexpected cookie.
In this political city perhaps we shouldn't have been surprised, but seeing our President so prominently portrayed caught us off guard.
The maple leaf shaped shortbread he ordered on a 2009 visit has become known as the Obama Cookie.
As tasty as these two treats were, man can't live on pastry alone, so for some more substantial sustenance we checked out the trendy small plate restaurant play.
We absolutely love this new concept in dining because it gives us the chance to sample many dishes over the course of the meal.
With traditional portions we never would have been able to consume such a variety of entrées  without exploding.
Over a couple of hours of leisurely indulging, we managed to consume frog legs with truffle and grilled endive relish, pork belly with green apple and fennel slaw, Spätzle with duck sausage,  grilled halloumi with salsa verde,  shrimp tostadas, onion pakora, and an amazing assortment of mushrooms.
Then we had dessert.
Getting the Snot Scared out of us!

Even though the portions were small, we still managed to stuff ourselves silly. In fact, it was scary how full we were, so we needed to burn some of it off.
Well, what better way to work off a few calories than a Haunted Walk?
As we strolled the streets of downtown we learned even more about the history of Ottawa, much of it from the viewpoint of the unjustly accused… and even executed.
No wonder their spirits continue to cry out for justice.
Touring the old Carleton County Jail – which, unbelievably, is a hostel for those who are brave enough to stay there – and especially the gallows where sentences were carried out, was more than enough to put a fright in us.
Thundering booms permeated the prison walls, punctuating the scary stories, so when we walked outside we were surprised to find no presence of precipitation.
What we did find was a fantastic fireworks finale to our Canadian capital expedition.
David and Veronica, GypsyNester.com
A big thanks to Ontario Travel and Ottawa Tourism for providing this rollicking adventure! As always, all opinions are our own.
YOUR TURN: Are you ready to take on Ottawa?