Florida is the place to be this time of year if golf is your game, but for those of us who just get frustrated chasing a little ball around, winter offers another type of tee… Manatees.
Good thing too, 'cause the way we play golf can be dangerous down here.
Too many gators out in the wild and swampy rough where we would spend most of our time searching for wayward shots.
Another plus, no worries about getting a tee time on a crowded course, from November to March the manatees are almost always ready to play. The giant marine mammals come down here to escape the cold, hmmm, just like the golfers.
But unlike the duffers, they prefer warm, shallow water to the fairway.
On Florida's east coast, the area around Ft. Pierce has plenty of water like that, it is kind of a manatee Mecca. So much so that it is home to The Manatee Observation and Education Center.
The Center overlooks the spot where Moore's Creek flows into the Indian River Lagoon, a perfect vantage point for viewing these gentle giants. When we arrived, we checked out the exhibits inside before heading out to the observation area.
The displays gave us an overview of the manatee's lifestyle.
These endangered creatures are harmless herbivores, but have suffered greatly because of human encroachment on their natural habitat. Most manatees never make it through their normal sixty year lifespan because of entanglements with fishing gear or collisions with watercraft.
Manatees swim fairly slowly, and right at the surface, so a speeding jet-ski or motor boat spells catastrophe for them. They just aren't able to move out of the way quickly.
We also found maps inside The Center showing the migration routes that these "sea cows" follow each year as the weather changes.
In the warm summer months they have been know to travel as far north as Massachusetts. Maybe they should be called sea snowbirds.
Armed with a better understanding of the critters, it was time to go out and try to spot one. Unfortunately, none were around. We did get quite a show from a dolphin chasing fish all over the inlet though. It was a very active lunch for Flipper.
From talking to some of the other would be viewers, we learned that morning and evening are the best times for spotting manatees. The "ocean oxen" (We're giving them this new nickname, we'll see if it catches on) like to head out to the coastal ocean waters around sun down, and back into the inland tributaries after sunrise.
Cool, that gave us a few hours to check out some other stuff before a late afternoon viewing.
We were in luck, Ft. Pierce is small enough that the sights were all within easy riding distance on our trusty bikes.
After a quick bite to eat, and spin around the historic downtown, we pedaled across the Seaway Drive bridge out to The St. Lucie County Marine Center.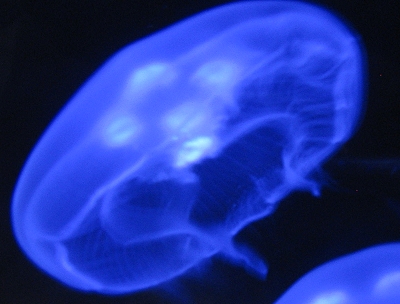 There we got an up close look at life in The Indian River Lagoon at The Smithsonian Marine Ecosystems Exhibit.
We wandered through the many displays detailing the reefs, seagrass beds and mangroves of the lagoon until we came upon a tank filled with jellyfish.
Then we were stuck, it was absolutely mesmerizing! Lit by ultraviolet light, the hypnotic jellies glowed while they bobbed and flowed across the aquarium. Once we finally pulled ourselves away, we turned around and went back a few minutes later for another view. It was addictive.
But as cool as the Jellyfish were, the highlight of The Marine Center had to be Touch The Lagoon.
This is a touch tank where we could touch many of the creatures that make their home in the lagoon.
We copped a feel of horseshoe crabs, starfish and the upsettingly slimy sea cucumbers, but the most interesting, if slightly disturbing, thing had to be the peppermint shrimp.
These little guys swarmed our hands as soon as we put them in the tank, because human hands mean suppertime to them. Yup, they were chowing down on the dead skin and anything else they could nibble off of our fingers.
With our digits picked clean, it was about time to head back over the bridge for some sea cow spotting.
As we came off the bridge back onto the mainland, we noticed a flock of pelicans going flat out nuts.
We had to check it out so we climbed over an embankment to where we could see the source of the commotion.
Fishermen were cleaning their catch and tossing the guts, so several dozen pelicans were fighting for the scraps. These birds aren't designed to be on land, they looked absolutely ridiculous, but it did give us the chance to see them closer than we ever had before.
Just before we got back to The Observation and Education Center, we crossed another little inlet. It was chock-full- o'- manatees!
Some of them were settled in near the shore, so we decided to dismount and watch from a bridge. Our first excited sighting came when we discovered bubbles rising to the surface. We could then trace an outline of the creature behind the bubbles.
Getting the hang of it, we started to see their backs sticking up out of the water. They looked like large, smooth, grey rocks.
Then at least a dozen of the "bay buffaloes" (swing and a miss, better stick with sea cows or ocean oxen) began their leisurely evening swim out to the open water – passing right under our bridge!
We gasped as we saw mama manatees with their calves in tow. Sadly though, almost every one of the animals had scars from encounters with boats.
Veronica was so excited, she forgot to take any still photos, so you'll have to watch the video to see our amazing experience:
Even though they are known as West Indian manatees and once roamed the entire Caribbean, there are few if any left in the West Indies.
Florida is fast becoming one of the last places to see them, a last chance for some manatee time.
David & Veronica, GypsyNester.com
Can't get enough manatee action? Click here to see our sightings on Florida's west coast! We even got to swim with them – YES!