Huge thanks to Tourism and Events Queensland and Dreamworld for providing this death-defying adventure! As always, all opinions are our own.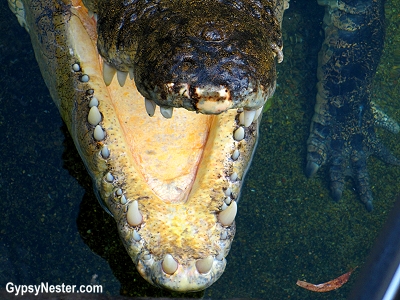 Is anyone really crazy enough to lure sixteen feet of teeth and muscle out of the water with a chicken leg?
Yes. We are.
At Dreamworld — Australia's largest theme park –that is just what we did.
Not buying the grin. We know you want to eat us.
Perhaps we're not as crazy or brave (stupid?) as we are making ourselves out to be since we barely had time to think about it.
But is it any less insane because we had no idea we would be feeding crocs until just before we did it?
This is the kind of thing that happens when we let Queenslanders plan our escapades and stupidly say, "We're up for anything!"
The combination of humor, sense of adventure, and a tad bit of wickedness that our hosts possessed led to some wonderfully unsettling situations (here's another one, should you need more convincing).
We were expecting a day of gut-wrenching roller coasters and theme-park related fun (we did that too!), and instead found ourselves gut-checking our courage inches away from the jaws of death. All while strapped to a glass platform.
We began with a demonstration, safety talk/harness fitting, and waiver signing (… crocodiles … danger … not responsible for lost limbs … name … date) with the fabulous Alecia.
Concern began to sink in as she taught us proper feeding technique with a seemingly too-short, well-chomped-on pole.
See more about our adventures in Australia's Gold Coast!
After helping us prepare the croc food (in our newly-donned overalls with CROC FEEDER emblazoned on the back), Alecia handed us off to Chris, crocodile wrangler extraordinaire, who snapped our harnesses to the feeding platform.
Chris has a special relationship with these prehistoric-looking creatures. Still, he had no problem expressing his awe. "They can go from completely still to full speed in a blink of an eye. Yeah, it takes you by surprise sometimes."
From the platform, new details emerge. Look at the feet!
Coupling Chris's remarks with Alecia's careful instructions – "We are slowly lowering (the pole) to get them excited, and then we are slowly raising the pole up" – had us questioning the entire preposterous venture.
"Full speed in a blink eye?" "Get them excited?"
Have you guys ever taken a close look at these killing machines?
But securely latched to the platform we clung to the small comfort that the beast couldn't drag us into the water.
Part of the fun was that there was a crowd watching. Alecia manned a microphone, stirring up the masses.
We hoped against hope that the field trip-taking schoolchildren among the spectators would not witness the ultimate grisly demise of The GypsyNesters. That kind of thing could scar a kid for life.
See more about our adventures in Australia's Gold Coast!
Chris wasn't kidding about the speed of these critters. There's no rush in the world like being on the business end of a hungry croc's mouth. Less than a second ticks by – from leaping reptile to the other-worldly SNAP! as enormous jaws slam shut.