Thanks to Go Western Newfoundland and Adventure Central Newfoundland for providing much of this journey. As always, all opinions are our own.

Most everyone we talked to on the ferry to Newfoundland was heading straight from the dock to Gros Morne National Park, Newfoundland's best known attraction. The fine folks at the province's Go Western Newfoundland had other plans for us though, and boy are we glad they did. They had several stops before the famous park on the itinerary they set up for us.
At The Railway Heritage Centre we found a narrow gauge train. One of the last vestiges of the Newfoundland Railway that ran from 1898 to 1988. No doubt that huge snowplow got plenty of work.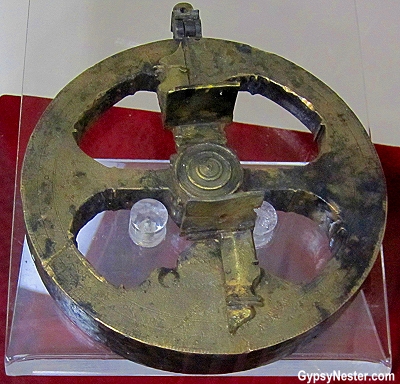 Inside the recreated depot there are displays about the railroad's history, but perhaps the most interesting item has nothing to do with trains. An astrolabe from the early 1600s, found by Wayne Mushrow near Isle Aux Morts, is on display. The rare old sailor's navigational instrument is still in working order making it nearly one of a kind.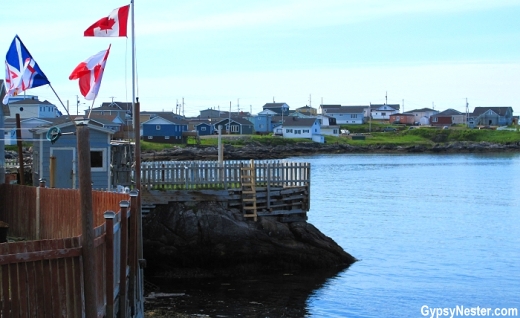 Had we blazed up the highway we would have missed some things that ended up being among the highlights of our visit, beginning with the town of Port aux Basques where we came ashore. Once again that good ole GypsyNester dumb-luck played in our favor, as Canada Day celebrations had been postponed for a night due to weather, and were just kicking off as we entered the town.
A crowd was gathering as a band set up in Scott's Cove Park by the harbor, and vendors had booths with crafts and treats. We ambled about for a few minutes, getting introduced to Newfoundland, then walked up the hill for dinner at the St. Christopher's Hotel. We were greeted like old friends by Lloyd Whitehorn at the front desk. Lloyd also gives tours of the area, so he was the perfect guy to give us a few pointers.
See more of our adventures in Western Newfoundland!
We had heard about fish and brewis before arriving on the island, and understood that this was a must-have meal if we were to get the full Newfoundland experience. Salt cod and hardtack are soaked, then boiled, chopped up, and combined for a plate of stick-to-your-ribs seafaring rations. The menu listed Fisherman's Brewis, but we figured it must be the same thing.
Take a look at a more traditional style of Fish & Brewis here
But first we had to try the true delicacy of the North Atlantic, cod tongues. Fried tidbits straight from the fish's mouth, served with scrunchions, deep fried pork fat bits. The tongues just tasted like cod, with a very slight gelled consistency. And everything's good with a little pig fat on it. Scrunchions were also used to dress up the fisherman's brewis.
Might not sound like gourmet dining, but it sure hit the spot after our crossing. Later in our trip we discovered that St. Christopher's kept the fish and bread in bigger pieces than the more traditional versions. It seems that can be the difference between calling it fish and brewis, or fisherman's brewis. After dinner we watched the Canada Day fireworks over the bay, then drifted off dreaming of what awaited us on this intriguing island at the edge of North America.
See more of our adventures in Western Newfoundland!
Sunrise found us learning much more about the island over breakfast of cod cakes and eggs with Stella Pittman, manager of St. Christopher's.
She explained how so many folks miss the incredible beauty of the southwest portion of Newfoundland by driving through without stopping. She, and several others, told us about visitors who thought the island was small enough to see the whole thing in three or four days. Considering it is over six hundred miles from top-to-bottom, and end-to-end, that would mean non-stop driving.
We sure are glad we booked the extra time to explore a little more in depth.
David & Veronica, GypsyNester.com
See all of our Newfoundland adventures!
Thanks to Go Western Newfoundland and Adventure Central Newfoundland for providing much of this journey. As always, all opinions are our own.